Heat Exchangers
U-tube Heat Exchanger
Straight - Thru Heat Exchanger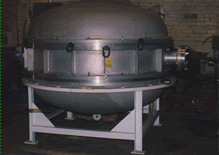 Heat exchangers are temperature control mechanisms specified and installed as part of the overall process design. Heat exchangers work in coordination with pressure vessels and storage tanks to either heat up or cool down the elements passing through the units. Proper heat exchanger design and implementation is a key component for processes that promote liquid separation (changing the base chemical state from either solid or gas to liquid).
Typical heat exchanger designs employ a "shell & tube" configuration. Midwest Imperial Steel Fabricators fabricates heat exchangers in two different tube styles as selected to match your chemical process:
Unlike other metal tank fabricators that build and stock heat exchangers as standard off-the-shelf components, Midwest Imperial Steel Fabricators manufactures each heat exchanger to your application's individual requirements. Our straight-thru tube heat exchanger and U-tube heat exchanger designs account for those details that make your project unique.
Midwest Imperial Steel Fabricators designs, builds, and installs heat exchangers that:
• Offer larger diameter tubing than standard, off-the-shelf models
• Offer longer lengths than standard, off-the-shelf models
• May be dimensionally matched to the physical limitations of the installation site
*** Ask Midwest Imperial Steel Fabricators about our Packed Column design option ***
If you are not sure which size or type of heat exchanger is appropriate for your project, our team of engineers can guide you through the design process. Whether you need a heat exchanger to replace an existing field unit or a completely new heat exchanger installation, our staff has the skills and experience to develop the best solution for your project.