Services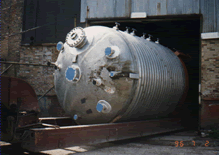 Midwest Imperial Steel Fabricators takes pride in providing individualized, high quality customer service. As a small company, we recognize the importance of each of our clients. Our experienced design engineers and field technicians draw upon over 50 years of custom vessel fabrication history to devise the best solution for your application. Midwest Imperial Steel Fabricators has specialists for every stage of development. Whether your application calls for a new certified single or multi-tank installation, a better performing product for a current process, or a simple modification or repair to a previously installed unit, we have the expertise to meet your needs.
Custom Storage Tank Services offered by Midwest Imperial Steel Fabricators include:
Our team makes every attempt to understand the overall project needs, and then to address each of these requirements during our design process. By taking a proactive approach during the design phase, Midwest Imperial Steel Fabricators is able to avoid potential pitfalls during the installation period. By matching our product designs to an agreed-upon set of specific application conditions prior to fabrication, Midwest Imperial Steel Fabricators is able to reduce overall development time and to deliver more reliable, cost-effective pressure vessel, storage tank, and reactor solutions.
Need help with your custom tank design, installation, fabrication or repair?
Contact us today for superior service and products